Democrats managing Trump impeachment trial guilty of gross violations of House ethics rules
Fairfax, Va. – Rick Manning, President of Americans for Limited Government, sent a letter today to the House Committee on Ethics calling for an investigation into the conduct of the Democrats managing the Trump impeachment trial in the Senate. Manning said it is clear that the House Members who produced and played a Feb. 9 video during the trial violated House Ethics Rules and "may be subject to discipline for the dissemination by electronic means, including by social media, of any image, video, or audio file that has been distorted or manipulated with the intent to mislead the public."
In the letter, Manning wrote, "The intent of the edited video is to persuade the Senate that Trump was inciting violence by playing clips of the speech, interspersed with rioting at the U.S. Capitol building. But it takes many of these quotes out of context to deliberately misconstrue their meaning."
Manning is calling for an investigation into the conduct of the House impeachment managers including Democrat Representatives Jamie Raskin (MD), Diana DeGette (CO), David Cicilline (RI), Joaquin Castro (TX), Eric Swalwell (CA), Ted Lieu (CA), Stacey Plaskett (U.S. Virgin Islands), Madeleine Dean (PA), and Joe Neguse (CO).
To read full letter click here.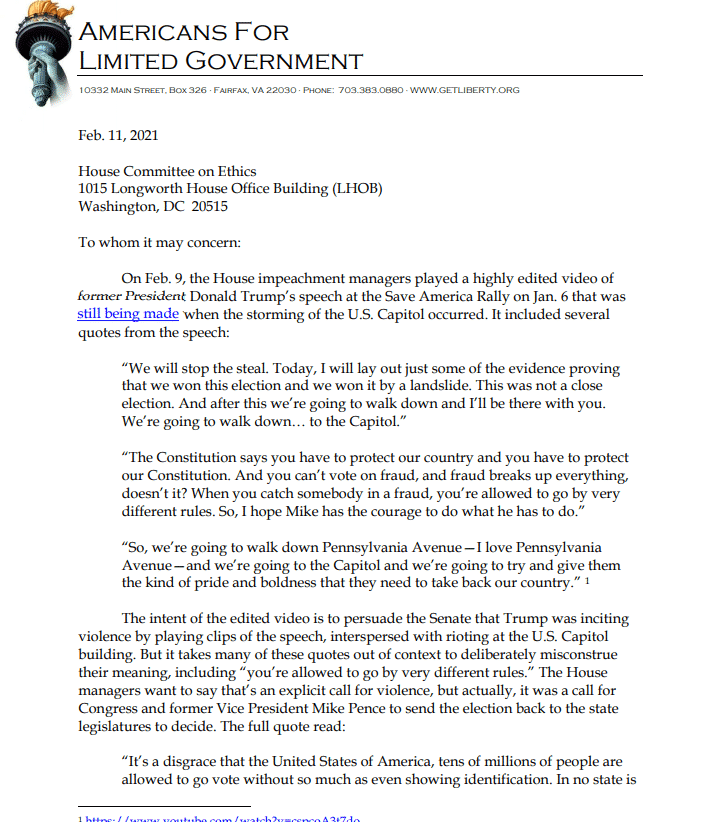 Interview Availability: Please contact Americans for Limited Government at 703-383-0880 or email media@limitgov.org.