Fairfax, Va.—Americans for Limited Government President Rick Manning  today issued the following statement cautioning against removing President Donald Trump from office in his final days, either by Congress or the Cabinet, as doing irreparable damage to the Union:
"Those who are seeking to politicize and exploit the tragic storming of the Capitol yesterday are playing a dangerous game. What happened yesterday was a national tragedy and must never happen again. Political violence can never be justified. Rather than further dividing the country more than it already is, it is time to help the country to heal and move forward so that the orderly transition of power can occur as it should. If Congress or the Cabinet were to even try, let alone succeed in removing President Trump from office in the final days of his term, millions of Americans will be disenfranchised, further dividing the nation and undermining the Union and lighting the fuse of a dangerous powder keg that may be impossible to snuff out. It is an abyss that must be avoided at all costs.
"Everyone is familiar with the Democrat axiom to never let a good crisis go to waste, let me be clear to everyone considering playing politics as usual, this is not a "good crisis" it is an existential threat.  As DC politicians consider any rash, precipitous move, I would urge them to review the words that the President actually spoke at the rally on January 6, "We have come to demand that Congress do the right thing and only count the electors who have been lawfully slated, lawfully slated. I know that everyone here will soon be marching over to the Capitol building to peacefully and patriotically make your voices heard." [emphasis added]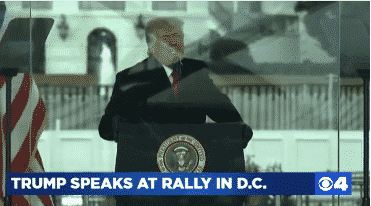 Prior to the storming of the Capitol on Jan. 6, at his national mall speech, President Trump explicitly called for protesters to be peaceful.
While people were still inside the Capitol at 3:13pm on Jan. 6, President Trump immediately denounced the violence and urged everyone to remain peaceful: "I am asking for everyone at the U.S. Capitol to remain peaceful. No violence! Remember, WE are the Party of Law & Order – respect the Law and our great men and women in Blue. Thank you!" [emphasis added]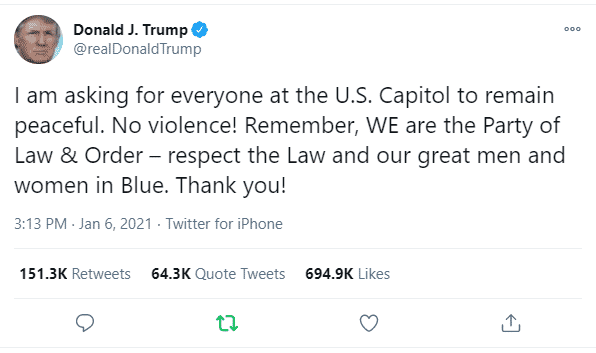 Interview Availability: Please contact Americans for  Limited Government at 703-383-0880 or email media@limitgov.org