April 2, 2020, Fairfax, Va.—Americans for Limited Government Rick Manning today issued the following statement blasting House Speaker Nancy Pelosi's decision to open up Congressional investigation into U.S. efforts to combat the Chinese coronavirus:
"Nancy Pelosi's decision to investigate the coronavirus response in the midst of the battle to save American lives is absurd and blatantly un-American.  It is okay to question actions, but to open an official investigation that will drain resources from those who are working 24/7 trying to save American lives, and re-open our country as soon as possible is perhaps the most blatantly dangerous action I have ever witnessed by any elected official.
"It was bad enough when Pelosi attempted and succeeded to extort millions if not billions of dollars for unrelated left-wing causes like the Kennedy Center, public broadcasting and refugee resettlement, as well as pay raises for Congress while another 6.6 million Americans lost their jobs waiting for relief, but to open an investigation when the administration is running at full tilt trying to meet the emergency head on is going to cost American lives.  There is plenty of time later for second guessing by the perpetual impeachment machine in Pelosi's House, one would have hoped that at least for now, the wayward Speaker would have had the decency to help pull the oars rather than create a political dance designed to distract those doing the hard work."
Attachments: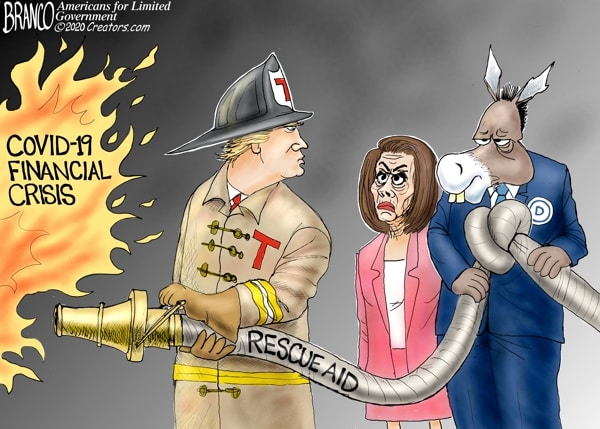 Cartoon: Twisted, By A.F. Branco, March 23, 2020 at http://dailytorch.com/2020/03/cartoon-twisted/
Interview Availability: Please contact Americans for Limited Government at 703-383-0880 ext. 1 or at media@limitgov.org.
###