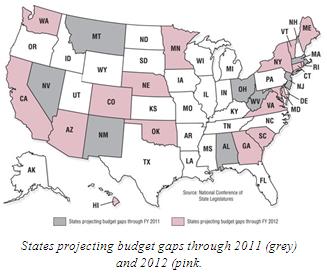 August 10th, 2010, Fairfax, VA—Americans for Limited Government (ALG) President Bill Wilson today condemned the House of Representatives for "voting for another $26.1 billion bailout for bankrupt states like New York and California, which simply refuse to cut any spending despite a lack of revenue."
"The House has once again voted to forestall the day of reckoning for bankrupt states, which really do need to cut spending. While Americans struggle to balance their family budgets, government has become the only sector of the economy that has not faced cuts during this recession," Wilson said, noting that "since Nancy Pelosi and Harry Reid took over Congress in 2007 when the recession began, the federal government has added $4.3 trillion to the $13.3 trillion national debt."
"The states already got $145 billion in the $862 billion 'stimulus,'" Wilson added, saying that the bailout would disproportionately favor those states that spent the most money: "Out of the estimated 3.3 million public school teachers nationwide, teachers unions were expecting 160,000 layoffs this year — just 4.8 percent of all teachers. 38.1 percent of those layoffs are centered in just three states: 9,000 in New Jersey, 16,000 in New York and 36,000 in California."
Wilson called on state governors and legislatures to reject the funds saying, "It is time to say, 'thanks, but no thanks' to endless federal bailouts that only put off the day when necessary cuts to state budgets must occur." For Fiscal Year 2011, CNN reports that states face $180 billion in shortfalls.
Wilson said that "stimulus" already was distorting the budget process of several states, pointing to a Los Angeles Times report: "Many states had already counted on the extra federal aid in their spending calculations — raising the possibility of new budget crunches if the measure failed."
House Speaker Nancy Pelosi had pulled members of Congress away from the August recess for a special session to vote on the legislation, included $16.1 billion for state Medicaid funding, and $10 billion for public teachers spending.
The final vote in the House was 247 – 161.
Wilson called the $10 billion teachers funding "a vote to pad the public sector unions' political coffers with at least $40 million to union bosses."
"Members of the House members have been warned that the American people are simply sick of these endless bailouts. They do not want to pay to balance the budgets of states they do not even live in to save unsustainable government employees that will only have to be cut next year as the economy and revenues fail to recover," Wilson explained.
Wilson also blasted members for limiting the use of the Section 956 foreign income tax credits for profits generated overseas.
"Nancy Pelosi's House has voted to guarantee higher unemployment and to reduce future capital investment in the U.S. by eliminating the foreign income tax credit. Now jobs and business capital will simply be shifted overseas," Wilson said.
"Phony small business groups have estimated that this tax increase will raise $37 billion in revenue from $149 billion in profits generated overseas, but they are wrong. That capital flow will not be repatriated into the economy, costing the economy $149 billion annually without generating any significant revenue," Wilson explained, adding, "For that reason, this bill will only add to the debt."
Wilson concluded, "The House has voted to side with bankrupt states and greedy public teachers unions, and to reject the concerns of taxpayers, who are being saddled with a mountain of debt that cannot possibly be paid."
Attachments:
"House to End Recess Early to Bail Out Bankrupt States," by ALG President Bill Wilson, August 5th, 2010.
"The Return of the States Bailout," by ALG President Bill Wilson, August 2nd, 2010.
"The Reverse Smoot-Hawley Act," by ALG President Bill Wilson, August 4th, 2010.
"Special Research Report from Americans for Limited Government on the Report, 'Unfair Advantage,'" Americans for Limited Government, August 2010.
"Radical Left-Wing Non-Profits Aligned with Sen. Levin Falsely Posture as Small Business Advocates," by Kevin Mooney, August 3rd, 2010.
Interview Availability: Please contact Rebekah Rast at (703) 383-0880 or at rrast@getliberty.org to arrange an interview with ALG President Bill Wilson.
###